Wednesday, February 8, 2012
8pm (Reception 6:30-7:30pm)
Henry Diltz 
in conversation with Kristine McKenna
discussing his work photographing rock musicians for the last 40+ years

PURCHASE TICKETS ($20, general admission, $55 includes coffee table book, $95 includes book + Reception)
Track 16 at Bergamot Station
2525 Michigan Avenue, Bldg C-1
Santa Monica, CA
Henry Diltz is a visual historian of the last four decades of popular music.  A founding member of the Modern Folk Quartet, Diltz is as much at home as a musician on tour, as he is a music photographer.  The rapport he's developed with his musician friends enables him to capture the candid shots that convey a rare feeling of trust and intimacy with his subjects.
For Diltz, the pictures began with a $20 second-hand Japanese camera purchased on tour with the Modern Folk Quartet. When MFQ disbanded, he embarked on his photographic career with an album cover for The Lovin' Spoonful. Despite his lack of formal training, Diltz easily submerged himself in the world of music: the road, the gigs, the humor, the social consciousness, the psychedelia, the up and down times.
For over 40 years, his work has graced hundreds of album covers and has been featured in books, magazines and newspapers. His unique artistic style has produced powerful photographic essays of Woodstock , The Monterey Pop Festival, The Doors, Crosby, Stills, Nash & Young, Jimi Hendrix and scores of other legendary artists. Diltz continues his distinguished career, generating new and vibrant photographs that inspire the rock n' roll fan in each of us.
His recently published book, Unpainted Faces, showcases a collection of over 150 photos of rock legends and celebrities, along with Henry's personal insight into each image.  Visit his website.
Kristine McKenna is a Los Angeles curator and writer who's covered the arts for numerous publications. Two volumes of her collected interviews were published by Fantagraphics Books, and she's edited and written more than a dozens books on various aspects of west coast culture.  She last appeared at Live Talks Los Angeles to interview Roger McGuinn of The Byrds.  See the video here.
The following are selections from Diltz's newly published book.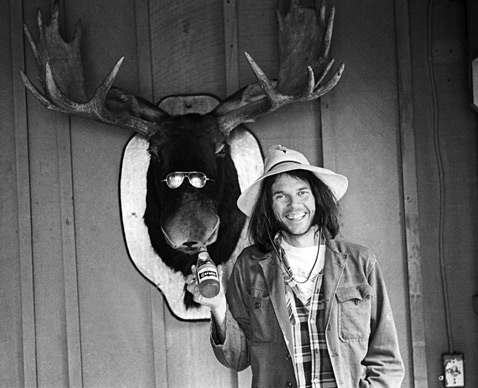 Neil Young & Moose ● 1975 "Sharing his Corona beer with a moose head we discovered in the garage of a house Neil was buying in Malibu." (© Henry Diltz/Morrison Hotel Gallery)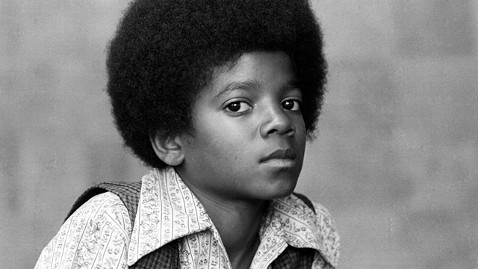 Michael Jackson ● 1971 "Rolling Stone called one day and asked me to go to the Motown Records office in L.A. to photograph the Jackson 5 answering fan mail. This picture was used on the cover of Rolling Stone." (© Henry Diltz/Morrison Hotel Gallery)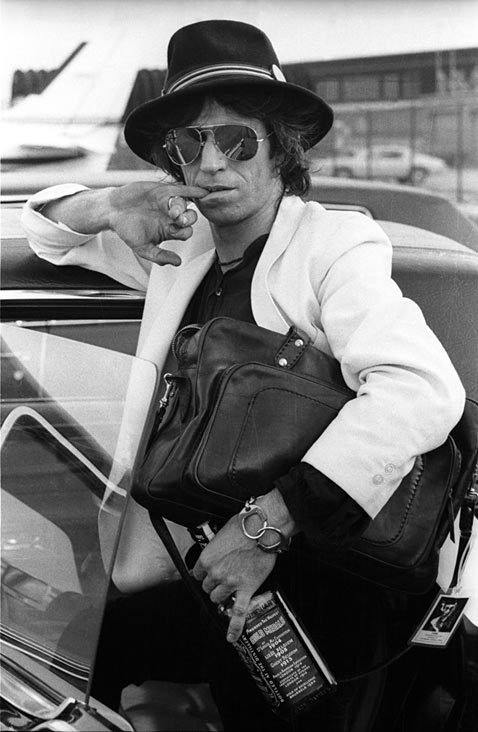 Keith Richards ● 1979 "I spent three weeks touring with Ron Wood's group, the New Barbarians, which included Keith Richards. All we saw were airplanes, hotels and concert halls but there was never a boring moment. The band rarely went to bed and always had reggae tapes blasting. Here is Keith just off the plane and waiting by the limo to ride to the next concert." (© Henry Diltz/Morrison Hotel Gallery)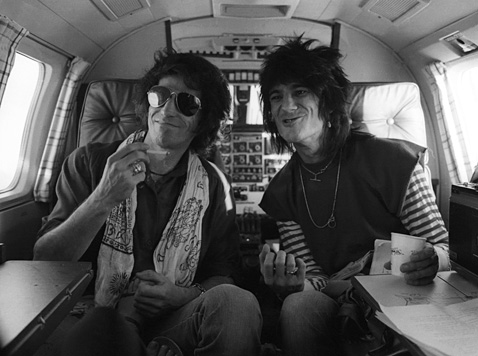 Keith Richards and Ron Wood ● 1979 "Ron Wood's New Barbarians record promo tour with Keith in the band was the Rolling Stones without Mick as the leader. I flew in a small plane with these two guys for the last concert in San Diego. They were a captive audience for my camera but I was the captive audience for their amazing energy." (© Henry Diltz/Morrison Hotel Gallery)